Is Nursery Good For Babies? An Interview With a Childcare Expert
There are several key factors that determine when a child will start nursery, from a parent's monetary and career pressures to the developmental needs and stages of the child. However, there is no "right" age for a child to start. Each child can benefit from the caring and supportive environment that nurseries provide, including young children under the age of 2. Today we will answer the question, "is nursery good for babies?"
Is Nursery Good For Babies?
1. How can babies benefit from attending nursery at such an early age?
There is a multitude of benefits for babies attending nursery, both physical and emotional. Firstly, they will be in a sensory-rich environment designed especially for learning purposes. In addition, their teachers will follow the Early Years Foundation Stage (EYFS) program. The setting will be exciting for them, and the variety of activities and toys will allow them to be physically challenged each day, as they develop basic motor skills such as grasping objects or manipulating them.
In addition, the social nature of nurseries allows your baby to interact with their peers and become accustomed to social interactions. This provides the basis for confident, independent children. Although separation anxiety is common when babies and young children first start nursery, they will eventually settle with the help of nursery practitioners. Over time, they will adjust to their new surroundings and build bonds with the staff and their new friends. They will learn and improve skills which they may not have had the chance to do at home.
2. In your opinion, why is nursery the best choice for childcare?
A nursery provides consistency and stability for parents and babies, which cannot always be offered by other childcare options. For example, nurseries have bank staff that ensures when a practitioner is sick or on holiday, care is always available. Moreover, it offers structure and routine, which is incredibly helpful for babies. Structure enables them to feel comfortable and in control as nap time and meals can be predicted.
Furthermore, it also allows parents to network with other like-minded mum's and dad's. Pick up and drop-offs typically allow for parents to network and chat, and nurseries usually offer social media groups or support networks, where parents can make friends, learn and receive assistance if necessary.
Finally, nurseries can be financially one of the best options for parents. There are many options of financial support available, like funded places that provide between 15 and 30 hours of free childcare per week. In addition, there is tax-free childcare and discounts specific to each nursery. Have a look at our post about how to save money on nursery costs.
3. What provisions do you have in place to support babies at Hatching Dragons?
At Hatching Dragons, we have a staff ratio of 1 nursery practitioner to three babies. This ensures that their needs are always met and that they receive the attention and care they deserve. The knowledge and skills of our staff mean that each child receives the best care possible, with innovative activity ideas, delivered in both Mandarin and English. As we have a Mandarin teacher and an English teacher for each baby, this ratio ensures that we can effectively provide our bilingual model.
As for nursery facilities, each area of our nursery is suitable for babies and designed to get the best from them. We have beautiful and comfortable napping spaces that ensure babies can rest and we have nutritious meals to help them grow and develop. We also go on outings every single day, to parks, and attractions nearby to help them become more familiar with the world around them.
To read some of the experiences of our staff members, see here!
4. What are the developmental outcomes you assist the youngest in the nursery to achieve?
Each age group has their own specific goals and needs which are supported at nursery. For the youngest children, there are three key areas where the curriculum is focused: communication and language, personal, social and emotional development and physical development. We focus on helping the youngest in the nursery develop an understanding for the world around them. We also focus on developing their sense of self and provide them the tools to express themselves. What is most important though, is that we want them to feel at home and part of the family.
5. How do you support the development of babies' literacy skills?
Literacy skills are worked on every single day at Hatching Dragons, as we sing, read, and engage in fun activities that promote an understanding of language. We aim for children to be able to speak 20 words in either English or Mandarin by the time they move to the next age group, with bilingual immersion introduced to even the youngest babies. In order for children to become fluent, the earlier they are introduced to a language, the better. With children as young as 11 months being able to differentiate between the distinct sounds that make up a language.
See here for the advantages of a bilingual education!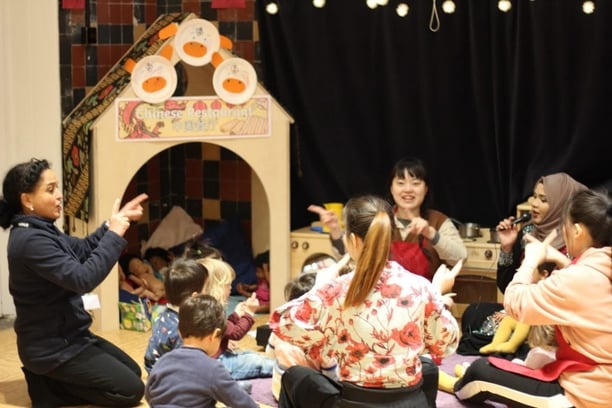 At Hatching Dragons, children from as young as six months old can attend our nursery. Their needs are naturally different from the older children and they require greater attentiveness and support to achieve their developmental milestones. If you would like to learn more about how we meet the needs of each child, see here: