Bonfire Night Recipes: 15 Child-Friendly Options
Bonfire Night, also known as Guy Fawkes Night, takes place annually on the 5th of November in the UK to celebrate the unsuccessful attempt of Guy Fawkes in blowing up Parliament in 1605. Now, people commemorate the historical event by lighting fireworks, playing with sparklers and gathering to see large public bonfires. It is a night of community, excitement and colourful displays.
This year, most celebrations have been cancelled. However, that doesn't mean you can't have fun at home! We have listed 15 child-friendly Bonfire Night recipes so that you can cosy up, and fill your belly with delicious treats!
Snacks
1. If you are looking for a healthy snack to fuel your children, a trail mix is a great option! Mix together nuts, seeds and raisins and store in a Tupperware box or a sandwich bag. Chocolate chips and yoghurt drops are also delicious additives for a flavour explosion.
2. Popcorn is not just for the cinema! Curl up with some popcorn to watch fireworks from the window or cartoons on the sofa. Drizzle golden syrup and some butter over plain popcorn to create a sticky toffee flavour. Let it cool down before serving and be warned, it will disappear quickly!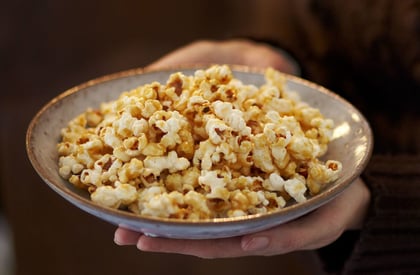 3. A berry smoothie is a clever way to sneak fruit and fibre into a child's diet. It is sweet and tasty, yet one of their five a day. This recipe includes oats, which makes the smoothie more filling and will provide you with fuel for longer. However, you can also add banana, mango or other fruits for an extra boost!
4. Energy balls taste very similar to a cookie or a granola bar, but do not need to be baked in an oven, making them a quick and easy alternative. The ingredients can be changed to suit any dietary needs, such as a gluten or nut allergy. For example, sunflower seed paste could be used in replace of peanut butter. This recipe provides six variations, from chocolate chip to oatmeal raisin.
5. Finally, you can't go wrong with vegetable sticks and dip. Try carrots, cucumber and pepper with hummus or guacamole. If you are feeling adventurous, you can make your own dip or you can buy it pre-made at the store to save time. Here is a recipe for a creamy hummus, which only takes ten minutes!
Main Meals
6. The nights are drawing in, the ice is making the ground sparkle and you would be brave to go outside without a hat. Therefore, it is the perfect time for a stew! This recipe from BBC Goodfood includes pumpkin, which is great if you have one leftover from Halloween.
7. If you are looking to start the evening with a hearty dish, macaroni cheese is a great option and children love it! It is guaranteed to warm you up before an evening walk and is a safe choice if you are dealing with any picky eaters. We recommend using mild cheddar, but you can adapt to you and your child's preferences.
8. Did you know that fireworks were invented in China? This Chinese stir-fry has only six ingredients but is packed with flavour! It is healthy and quick to make, which is convenient if you have any Bonfire Night activities planned at home. The sesame seeds provide a nice crunch too, perfect for the occasion.
9. Sausage and mash is another simple and healthy meal that will fill you up for Bonfire Night! It is a British classic, which for many people has become comfort food. If you are looking to introduce your child to a greater variety of vegetables, sweet potatoes are a good alternative for creating the mash.
10. If you are looking for a lunchtime meal, try this mozzarella and pesto toastie recipe. You can add tomatoes, spinach or salad to make it healthier. All ingredients can be swapped for a milder alternative too, such as cheddar cheese or mayonnaise spread. It is sure to go down with a bang!
Desserts
11. These Bonfire themed cupcakes look impressive but are incredibly easy to make. If you would like to make the recipe even simpler, we recommend buying a cake mix so you can spend more time decorating (and eating).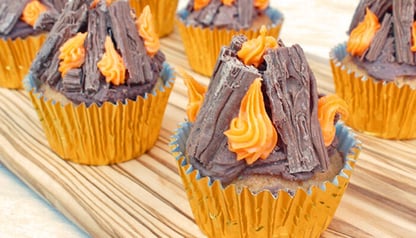 12. Marshmallow swizzle sticks use only three ingredients, are quick to make, and taste delicious. You can get a variety of sprinkles to decorate them or use sweeties such as smarties for the outside. Alternatively, add popping candy for a Bonfire Night twist.
13. Toffee apples are a classic Bonfire Night staple. They are sweet, crunchy and dare we say healthy? This recipe has a video, which is useful for getting the consistency of the toffee right, as that is the hardest part.
If you are concerned over the sugar content of the toffee or are looking for a recipe to make alongside the marshmallow swizzles, swap the toffee for melted chocolate instead. You can even slice the apple into smaller pieces and make an apple skewer, so it is easier for your child to eat.
14. There are so many ways to mix up a hot chocolate. If you have leftover chocolate from Halloween, you could melt it down with some hot milk, or use it as a topping over whipped cream. This recipe uses Terry's chocolate orange for a citrus twist. If you are a purist, you can make the hot chocolate over the stove, however, we are happy to make do with instant powder.
15. Rocky road is always a success! The only downside is that it doesn't last very long, especially if you use this recipe. It is simple, delicious and the nuts can be swapped out if your child has allergies. We like to use dried cranberries as a substitute but they also taste great without.
We hope that these recipes will provide you with inspiration for a Bonfire Night feast! Stay safe and have a great night! For more activity ideas, see here: