Christmas Songs for Children in English & Mandarin
This Christmas will undoubtedly be unlike any other from years gone past. We are living through a challenging time, and we are all aware of the hardships many have faced. However, this season is also an opportunity to reflect on the joy that we have in our life. The beautiful people we cherish and call family.
There are many traditions that we will have to forgo this year, but one tradition that can remain is Christmas songs. Therefore, we invite you to join us in singing our three favourite Christmas songs for children, both in Mandarin and English.
1. Jingle Bells
We suggest cosying up in the lounge together, with a nice hot chocolate, topped with marshmallows, and a warm cozy blanket to snuggle under. The beauty of staying at home is that you can be as comfortable as you like. If you decide to wear pajamas for the entire holiday, we promise not to judge!
Jingle Bells is as classic as it gets! For a background track to sing to, see here.
2. We Wish You a Merry Christmas
Although we may be unable to socialise with our family, that doesn't mean that you can't perform for them. With zoom and other video call platforms available, why not give your family a ring and sing to them online? For fun activity ideas that you can do with family online, see here.
For a background track to sing Merry Christmas to, see here.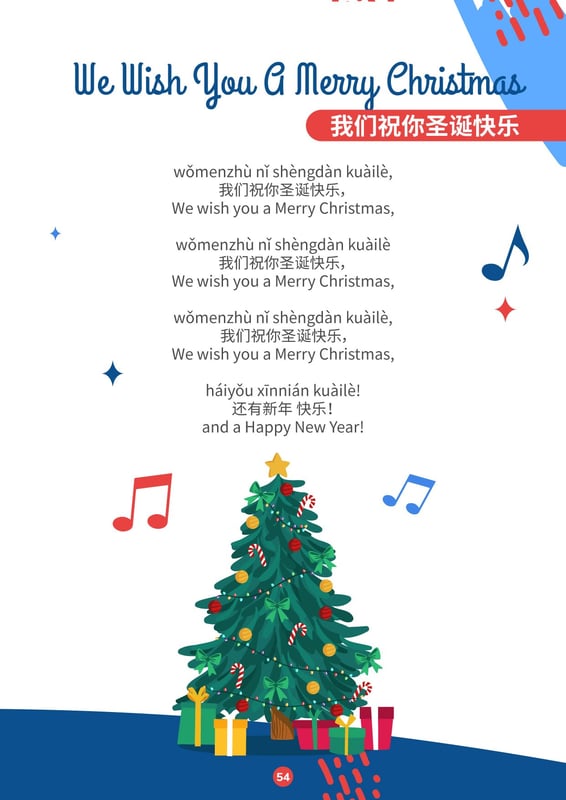 3. Silent Night
Finally, Silent Night is a good song for teaching your child new vocabulary, as it is slightly more advanced than the previous two Christmas songs. Listening to music is a key technique for introducing new language to children, in a fun and interesting way, as the catchy lyrics and rhythm aid repetition.
For a background track, see here.
Overall, we hope that you enjoy these Christmas songs for children and have a wonderful Christmas with your family! Stay safe and healthy and we look forward to welcoming you back in the New Year!
We are here for you if ever you need us, so please don't hesitate to get in touch!